The 4 Stage Reef Pure RO/DI systems are designed for Australian reefers who have tap water that is treated with chlorine, some chloramines and have minimal levels of other contaminants.
All Reef Pure RO/DI systems feature high-quality, Mixed Bed Colour Changing DI Resin stages for 0ppm TDS water and include a full set of filters with the system.
Our 4 stage systems are housed on a single bracket which makes them compact, easy to move and ideal if a non-permanent connection is required. Installing a 4 stage system is simple and can be done in minutes without any permanent modifications to your home or its plumbing.
STAGE 50GPD ESSENTIALS RO/DI SYSTEM FEATURES:
Easy to use and store
Full-sized DI resin stage for 0ppm TDS water
Colour coded ¼" tubing for simple identification
Common under-sink tap adaptor included for hassle-free installation
Pre-installed NSF certified filters
1 x 50 GPD Thin Film Composite (TFC) Membrane
Reef Pure RO Systems have designed all of our RO/DI units with Australian reef aquariums in mind. However, the water that they produce is perfect for all other types of saltwater and freshwater aquariums.
INCLUDED ACCESSORIES:
2 Meters RO Tube in Yellow (Production Water), Red (Waste Water) & White (Source Water)
1/2″ BSP to 1/4 RO Tube Undersink Connector (measures approx. 19mm)
Drain Clamp (For Wastewater Line)
Housing Wrench
All Prefilters, RO Membrane & DI Resin
4 STAGES OF FILTRATION
STAGE 1 – 5 MICRON SEDIMENT FILTER
Sediment filters remove sediment and debris that if allowed to pass through would clog carbon block filters and damage RO membranes. These filters have true step filtration integrated into their design. With 4 separate layers of micron filtration, the outside-in flow allows the outer layer to trap the larger micron particles with a much lower pressure drop.
Step-by-step, trapping the larger particles layer-by-layer, allows these filters a much higher dirt holding capacity than standard spun polypropylene and string wound cartridges.
STAGE 2 – 5 MICRON CARBON BLOCK
Carbon blocks are manufactured with high purity coconut shell activated carbon. With high performance, great dirt-holding capacity and the absence of carbon fines, they are perfect for use in reef aquarium RO/DI units, where high chlorine removal is needed.
STAGE 3 – PUREPRO 50 GPD THIN FILM COMPOSITE (TFC) MEMBRANE
Pure-Pro reverse osmosis membrane elements are one of the industry's most reliable. Advanced membrane technology and automated fabrication allow these elements to deliver consistent performance that you can rely on. A high quality, thin film composite (TFC) membrane that processes 50 gallons per day. Just some of the water contaminants that these membranes will remove are lead, copper, barium, chromium, mercury, sodium, cadmium, fluoride, nitrite, nitrate, and selenium.
PurePro membranes are rated at 50psi and will purify about 20% more water than competitive elements rated at 60psi.
STAGE 4 – REEF GRADE MIXED BED COLOUR-CHANGING DEIONIZATION RESIN
A mixed bed deionization resin is the final, polishing stage of the RO/DI system. It will remove any contaminants that may have passed through your sediment/carbon filters and RO membrane. This stage will achieve the 0 TDS RO water you need for a successful reef aquarium.
The DI resin supplied by Reef Pure RO Systems is a mixed bed (both cation and anion) with colour changing indicator to let you know when it has become exhausted. The resin starts as a dark blue colour that will turn gold as it becomes exhausted. This gives you a very visual indicator, making sure you know when it is time for it to be replaced.
4 STAGE 50GPD ESSENTIALS RO/DI SYSTEM RECOMMENDED CONDITIONS:
Minimum Water Pressure – 50psi
Max Water Pressure – 100psi
Max Water Operating Temperature – 45°C
Recommended Max TDS – <300ppm
(4ST-50ES-RODI)
| | |
| --- | --- |
| SKU | 4ST-50ES-RODI |
| Barcode # | 740528974840 |
| Brand | Reef Pure RO Systems |
| Shipping Weight | 7.4100kg |
| Shipping Width | 0.470m |
| Shipping Height | 0.210m |
| Shipping Length | 0.410m |
| Shipping Cubic | 0.040467000m3 |
Others Also Bought
100% Reef Safe Acclimatising Line with Drip Tap an
$8.00
or 4 payments of $2.00 with

Info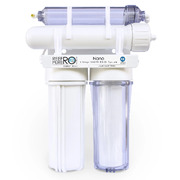 4 Stage 50GPD Nano RO/DI System
$199.00
or 4 payments of $49.75 with

Info
More From This Category