| | |
| --- | --- |
| * | Ideal food for marine invertebrates and fishes that feed on zooplankton |
| * | Rich source of vitamins, pigments, amino acids, and essential fatty acids |
| * | Nutritious zooplankton-based food ensures proper invertebrate diet |
Blend of dried crustaceans and other sea creatures in a size range suited for reef invertebrates. ZoPlan Zooplankton Diet from Two Little Fishies is the ideal food for marine invertebrates such as soft and stony corals, gorgonians, seafans, anemones, cerianthids, zoanthids, hydrozoans, clams, and other filter feeders. Also a food for fish that feed on zooplankton.
For aquarium use only. Not intended for use with fish or other animals raised for human consumption.
Contains particles of a wide range of sizes, from less than 10 microns to more than 250 microns.
Low moisture content for concentrated nutritional value.
Ingredients: Dried shrimp, copepods, fish, crabs, and other marine invertebrates.
Directions for Use: Use 1/4 teaspoon per 20 gallons daily, mixed in a cup of water.
Keep bottle tightly closed and store in a cool, dry place. To maintain nutritional value, refrigerate after opening.
PhytoPlan
Concentrated source of nutritious phytoplankton for filter-feeding reef invertebrates. PhytoPlan from Two Little Fishies is a unique spray-dried blend of several strains of phytoplankton specially formulated to maintain their nutritional value. A microencapsulated source of color enhancing beta-carotene and astaxanthin pigments, vitamins, amino acids, and essential fatty acids including DHA.
Great for filter-feeding invertebrates like soft and stony corals, anemones, feather duster worms, clams, sponges, and tunicates. PhytoPlan simulates food webs in closed aquarium ecosystems and, with daily addition, promotes the development of zooplankton. Easier and more economical to use than live phytoplankton. Use PhytoPlan with prepared foods or frozen foods to boost their nutritional value. 1 oz container.
Directions for Use:
Feed approximately 1/4 teaspoon (spoon provided) per 30 gallons daily. For filter feeders, add the daily dosage to 1/2 liter of water and mix well before dosing into the aquarium. To enrich the nutritional value of dried fish foods, soak them briefly in a mix of 1/4 teaspoon of PhytoPlan with two tablespoons of water.
(315)
| | |
| --- | --- |
| SKU | 315 |
| Shipping Weight | 0.2000kg |
| Shipping Width | 0.060m |
| Shipping Height | 0.090m |
| Shipping Length | 0.120m |
Others Also Bought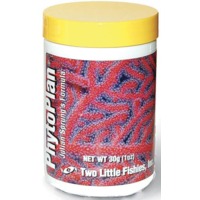 Two Little Fishies Phyto Plan 30gm
$28.00
or 4 payments of $7.00 with

Info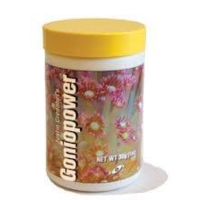 Two Little Fishies GonioPower 30g
$35.00
or 4 payments of $8.75 with

Info
Barrier Reef Labs LPS GroFormula 240g
$49.50
or 4 payments of $12.38 with

Info
More From This Category