FULLY ASSEMBLED
4 Stage R/O unit, top quality Italian designed and manufactured.
The reverse osmosis is a process by which there is removal of minerals, metals, colloids, organic substances and pollutants as well as bacteria contained in it which are flushed into the waste water.
Manufactured in Italy using only the highest quality materials, the system guarantees high quality standards. The use of a restrictor, although more expensive, with quick couplings makes for washing the dell'Osmo275 PRO08 membrane without the use of tools simply & quickly.
Thanks to this the life of the membrane is significantly increased to have an average life of 7-10 years hence avoiding costly replacements.
The mechanical filtration system consists of a cartridge of high quality polypropylene sediment to 5 microns for the filtration of rust, sand, suspended particles (it is recommended to replace the cartridge every 2500 to 3000 gallons and not within the 4-6 months maximum life to the osmotic membrane and a constant yield);
System of filtration with activated carbon consists of an active in-line coconut charcoal cartridge capable of effectively adsorbing the chlorine that ruin the membrane and all harmful substances present in water such as pesticides, fungacides, etc. (It is recommended to replace the cartridge every 2500 to 3000 gallons and not within the 4-6 months to allow maximum life to the osmotic membrane and a constant yield);
Osmotic membrane 75 GPD Dow Filmtec that dramatically reduces the content of the substances present in the feed with a rejection of about 97-98%. Through this process all unwanted substances dissolved in the water are separated through it, producing the permeate (absolutely pure water) and waste water which is led to the drain (water containing dissolved salts and all pollutants);
The plant is equipped with a Dow Filmtec original membrane produced in the US by 75 GPG with a capacity greater than 20% compared to the other membrane of equal magnitude with the same working pressure. Thanks to the optimum pressure for which the plant needs only 3.5 bar prevents the purchase of expensive booster pumps and have a greater water production compared to a traditional system.
Uses and applications:

the OSPURE50 components:
1 viewing Cartridge FORWATER PPRO5 to 5 micron polypropylene sediment
1 Cartridge online FORWATER GACROL charcoal for food use coconut fibre
1 FILMTEC Membrane 50 GPD high quality Made in USA
1 3/4 "adapter for 1/4" hose with quick connector for connection to the water network
The inlet water must be potable. The details of the instructions and installation work are described in detail in the user manual supplied with the implant
Caution. The osmotic membrane contains a preservative solution. This solution is removed with the first water produced. Therefore, waste the the first 30 - 40 liters of water produced and each time it is replaced.
Parameters for the use of water for the plant OSmo275:
maximum water pressure of 6 bar
ideal pressure 3.8 to 4 bar
Temperature 5 ° - 45 ° C
Iron less than 0.1 mg / l Manganese less than 0.05 ppm
Use with potable water. The systems must be connected only to drinking water. In the event that water is microbiologically polluted perform adequate disinfection.
Maintenance:
The system consists of in-line filters to be replaced regularly to keep a constant yield over time and quality of water for which it was designed:
Cartridge 5 micron line: replace every 2500 to 3000 gallons and not later than 6 months
Cartridge carbon: replace every 2500 - 3000 gallons and not later than 6 months Osmotic membrane from 50 gallons: replace every 5-7 years, if necessary
Technical data:
Membrane Production 90-160 l / g
Production Concentrate 2 - 4 times the consumption of water produced
Rejection saline 95-97%
Please be advised that R/O units are best installed either in a garage or a weather protected outside area as the risk of leakage could damage internal fixings. We are not responsible for any damage caused by leakage.
(930)
| | |
| --- | --- |
| SKU | 930 |
| Barcode # | 2000000002071 |
| Brand | Decasei Forwater |
| Shipping Weight | 9.0000kg |
| Shipping Width | 0.470m |
| Shipping Height | 0.470m |
| Shipping Length | 0.510m |
| Shipping Cubic | 0.112659000m3 |
Others Also Bought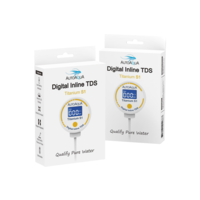 Auto Aqua Digital Inline Titanium One TDS Meter S1
$50.00
or 4 payments of $12.50 with

Info
More From This Category